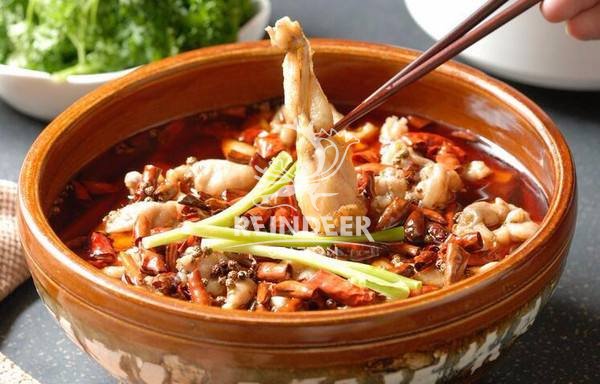 Bullfrog poached in chili oil
(Sichuan boiled bullfrog)
四川水煮牛蛙
Kermit might not like to hear this, but frogs are a delicacy in China, especially bullfrogs.
There are a variety of ways to cook bullfrogs in different parts of the country,
but shui zhu -- a cooking technique from Sichuan cuisine -- has gained widespread popularity.
Pre-fried bullfrogs are poached in oil packed with strong spices, such as chili peppers
and flower peppers, then served in a larger bowl and garnished
with fresh coriander. Often, the oil is still bubbling while being served.
It's an unbeatable sharing dish for a big group. It's most satisfying with a bowl of white rice.